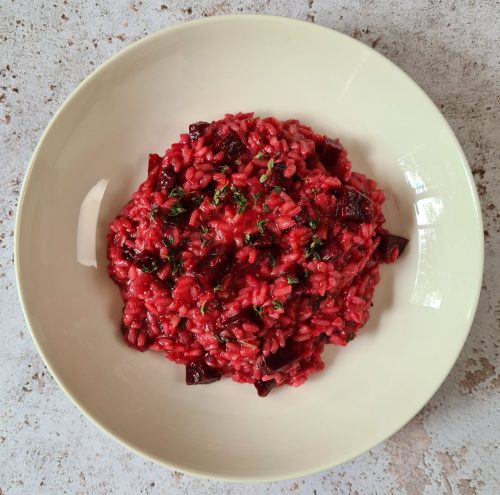 400g Riso Gallo Tradtional Risotto Rice
1 Red Onion (Diced)
2 Garlic Cloves (crushed and diced)
750ml Vegetable Stock
400g Pre-cooked Beetroot
50g Parmesan Cheese (Grated)
1 lemon
Feta Cheese (Optional)
A few sprigs of fresh or dry thyme
This is probably the easiest risotto dish to make and it's super quick and as beetroot are currently in season, there is nothing stopping you!
Dice a red onion and fry in a little oil with some seasoning for 3-4 minutes. Then add in 2 crushed and diced cloves of garlic, a few sprigs of fresh thyme (or dried), a knob of butter and around 100g Riso Gallo Traditional Risotto Rice per person. Stir well so the butter coats the rice.
Then ladleful by ladleful spoon in the vegetable stock, waiting each time until the previous ladle has been absorbed. This will take around 18 minutes.
Whilst that's going on take the pre-cooked beetroot. Blend half in a food processor and chop the other half into cubes.
When almost all of the liquid has been absorbed add grated parmesan and the blended beetroot. Stir well and watch the rice change colour. Squeeze over the juice of 1 lemon and mix in the chopped beetroot.
Serve with more thyme. Some feta would also be lovely on top.