Riso Gallo is one of the oldest rice-growing companies in Italy.Riso Gallo started out back in 1856 with Giobatta Preve, the company founder, starting a commerce in grains between Argentina and Italy. At the same time, another factory was opened in Argentina to meet the requirements of the South American market. 
Its success and increasing experience in the field encouraged the company to concentrate on Italian crops, and so in 1926 the Genoa factory was transferred to Robbio Lomellina in the heart of the province of Pavia, one of the most well known rice-growing regions.
In the 1940s, an intuitive hunch marked a new chapter in the history of the company and the cockerel (Rooster) symbol was created. Since illiteracy was still widespread in Argentina, the company decided to identify the different varieties of rice by using images of animals.
A giraffe, a tiger, an eagle, an elephant and a cockerel (rooster) appeared on all the sacks of rice. The cockerel (rooster), which identified the best variety, soon became the company symbol and synonymous with the high quality of its products. At the same time, the company began to sell rice in retail packets.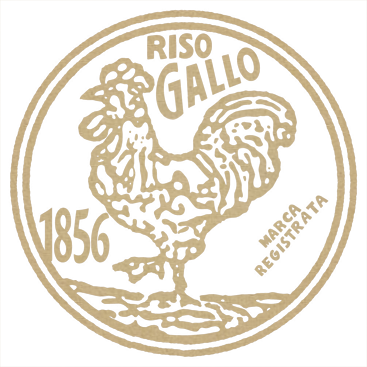 We have been making people happy for six generations. Riso Gallo's mission is to spread the culture of rice and risotto throughout the world by using innovation that constantly adapts to the needs of the modern consumer. 
At your service. We strive to achieve total customer satisfaction, and at Riso Gallo we constantly analyse and identify our consumers' needs in order to do this.
We rely on our experience to develop the finest varieties of rice that satisfy the market demand for high-quality, genuine, tasty products that are quick and easy to prepare.
Technology, research and quality at the consumer's disposal: these strengths have always been a part of the Riso Gallo company ethos.
Alongside the HACCP system, which guarantees the hygiene and safety of food products and has been in force since 1998, Riso Gallo has developed its own Quality System certified according to UNI EN ISO 9001: 2000 standards to guarantee a punctual and efficient service as well as safe, high-quality products.
Riso Gallo offers a wide and complete assortment to meet every need. Offering fast, refined, exotic, traditional rice from time to time… but always natural, of controlled quality and above all excellent.
To ensure that all our products reach your table in their genuine and natural form, Riso Gallo does not use genetically modified organisms (GMOs).
QUALITY SYSTEM AND RESEARCH CENTRE
The Quality System and Research Centre in Robbio Lomellina are something of which Riso Gallo is very proud. This section is dedicated to Riso Gallo certification and our Research Centre, a cutting-edge structure that focuses on product innovation.
To ensure that all our products reach your table in their genuine and natural form, Riso Gallo does not use genetically modified organisms (GMOs).