We bring the best of the world's great rice varieties to your table with our authentic selection of grains for sophisticated and exotic dishes.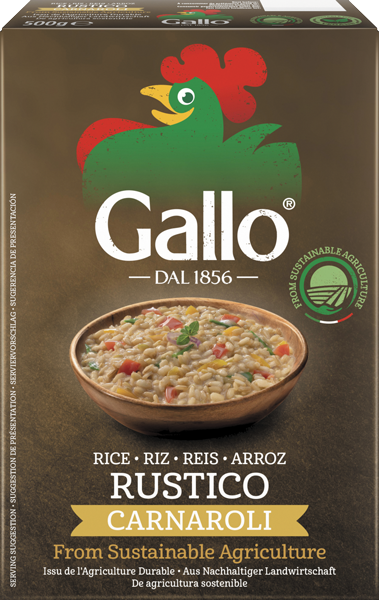 Carnaroli Rustico is a semi-brown rice and has a higher fibre content compared to white rice so is a great option if you are following a healthy and balanced diet.
All our sustainable Rustico rice is cultivated exclusively in a few selected farms not far from Riso Gallo production plants in northern Italy.
Our packaging is FSC certified and is suitable for recycling.
Cooking time: 18 min
Shelf life: 36 months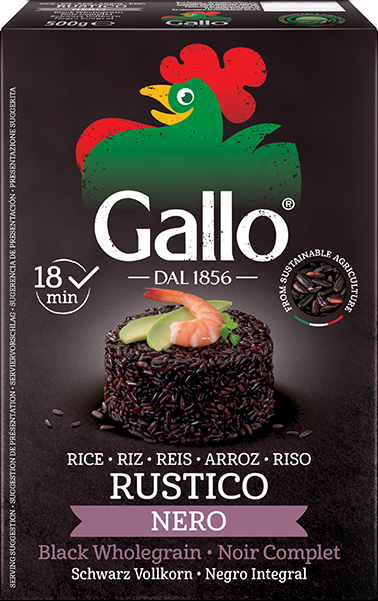 RUSTICO BLACK RICE is a whole-grain rice with an unmistakable natural black colour that, while cooking, releases the characteristic scent of sandal wood and freshly baked bread. Originating from China, it is also currently cultivated in Italy, in the Po Valley.
It is known as the "Forbidden Rice of the Emperor", as it is said to have been eaten only by him for its nutritional and aphrodisiac properties. The "Nero" rice has a high content of minerals, Magnesium, Phosphorus and Selenium, which are beneficial to our health.
Cooking time: 18 min
Shelf life: 36 months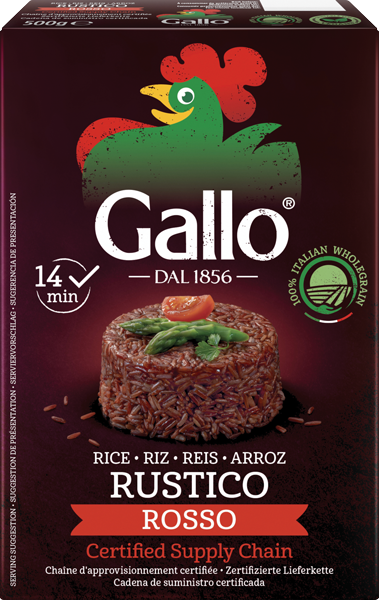 "RUSTICO ROSSO" is a whole-grain rice, with a long grain and the unmistakable genuine red colour, that always remains firm. It is a rice with unique characteristics, well appreciated by connoisseurs all over the world for its pleasant, nutty flavour and the typical texture of its grain.
Best when boiled and seasoned with olive oil or with a fish and tomato based sauce. It can also be served plain, boiled, and as a side dish for meat or vegetable dishes. It is particularly suited for creating new and original rice salads using varied ingredients.
Cooking time: 18 min
Shelf life: 36 months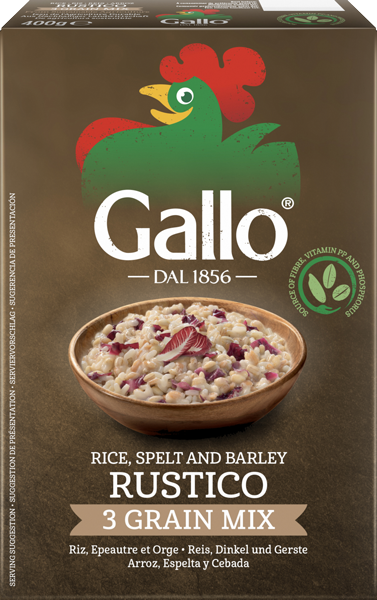 Riso Gallo 3 Grains Rustico Mix is more than just risotto rice : its versatility lends to the creation of Risottos, Soups, Salads or stuffing for vegetables.
A perfect balance of three cereal varieties – Italian Rice, Spelt and Pearl Barley – all with the same cooking time – just 18 minutes.
Alternatively Riso Gallo 3 Grains Rustico Mix can simply be cooked as a replacement in any rice recipes. 3 grains, containing a highest amount of fibre than white rice, helps your body's natural equilibrium, as the right supply of fibre is essential for a healthy and correct diet.
Cooking time: 20 min
Shelf life: 36 months