The ultimate in gourmet rice is created from selected grains grown in the Po Valley - home of the very best Italian rice. "Gran Riserva" is matured for one year which brings out the subtle flavours of the delicate grains, and represents absolute perfection for the discerning cook.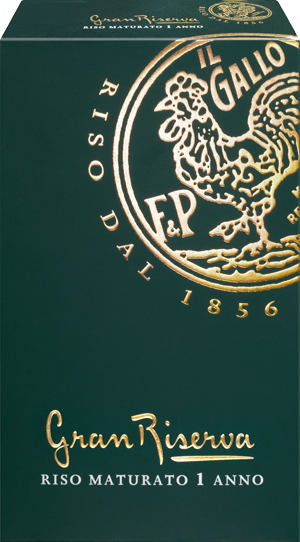 The Carnaroli Gran Riserva is grown in a farm in the North-East of Pavese Area, where the characteristics of the soil and the microclimate are most favourable. The rigorous selection of the seeds guarantees the maximum varietal purity.
Sowing is done at a reduced density in order to obtain a higher quality product. The cultivation scrupulously follows ancient agronomic techniques that are respectful of the environment. The accurate harvesting of the long and thriving ears includes not only special humidity conditions but also a further selection that favours only the plants from the "heart of the rice-field", where exposure is better, omitting the areas of entry and outlet of the water, where it is either too cold or too hot.
The development of the grains of rice continues even after harvest and is refined after a year of maturation, allowing the Carnaroli Gran Riserva to improve its resistance to cooking and to more readily absorb flavourings.
Rice can be kept in a cool, dry place for many years, without altering its qualities. Another homage to tradition is also the threshing, done with a threshing stone.
Cooking time: 18 min
Shelf life: 36 months