Riso Gallo is the first international brand in the sector to have undertaken the production of rice from sustainable agriculture, making their premium best-selling risotto rices – Gallo Traditional Risotto, Arborio and Carnaroli – fully Sustainable.
Take a look at our Sustainability Charter booklet to see how we're changing things for the better…
Riso Gallo & Albini 'Off the grain' collaboration
An innovative and ambitious upcycling project born from the research work of ALBINI_next – the Albini Group think tank launched in 2019 with the aim of finding innovative solutions to create the fabrics of the future – in collaboration with Riso Gallo, a of the oldest Italian rice industries.
Eco-Design and Circular Economy
For an authentic circular economy, in which nature becomes, from time to time, architecture, design, art and fashion, guaranteeing the consumer the same standards of quality and food safety, with the added awareness of contributing to the sustainable future of the planet. The constant involvement of all the players in the supply chain has been able to give rise to an integrated project in which skills and objectives have come together, giving life to the first effective application of the use of certified recyclable plastic for vacuum technology. Within a modified atmosphere; the almost complete passage of our cardboard to FSC ( Corepla himself praised this innovation effort), carried out together with our partners; to the activation and support of circular economy practices, through the acquisition of shares in start-ups such as RiceHouse or Mogu dedicated to the reuse and enhancement of production waste.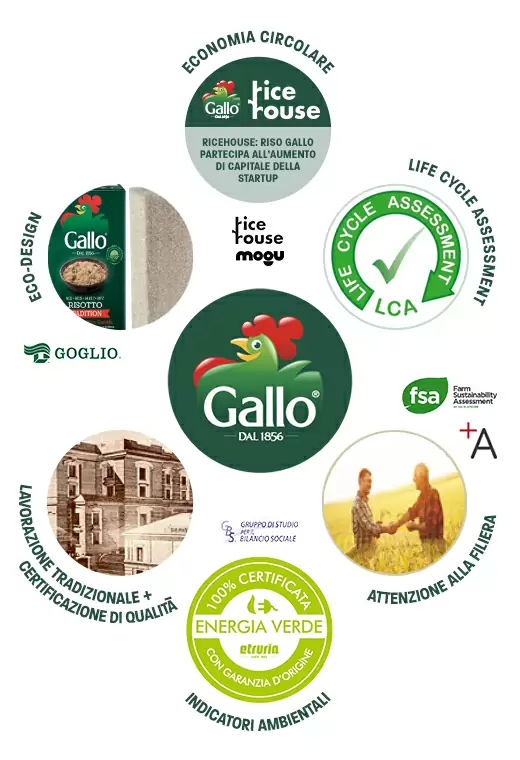 GOOD FOR THE PLANET
GREAT FOR THE PALATE...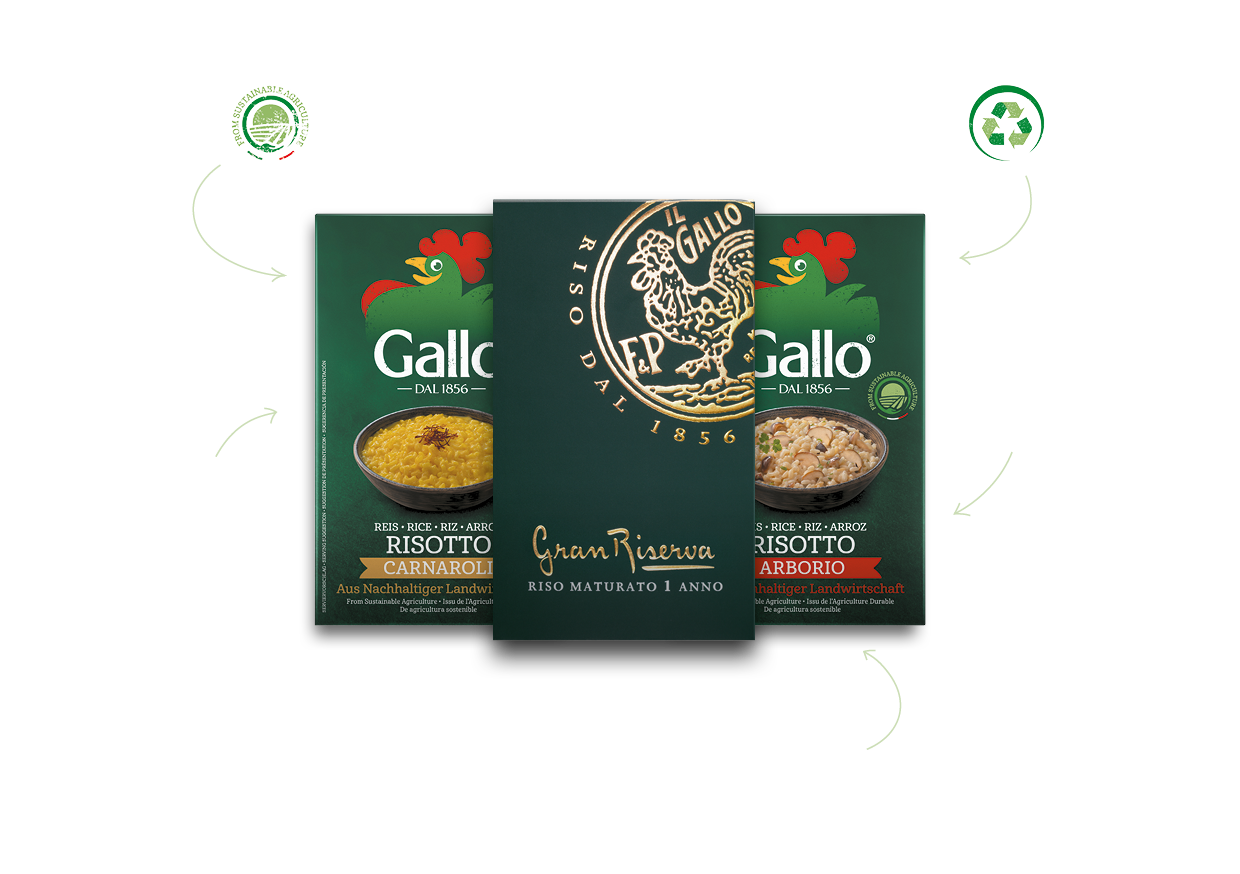 From Sustainable Agriculture: following the prestigious international FSA / SAI Platform and SRP protocols as certified by top auditors Control Union and Preferred by Nature. Find out more at www.risogallo.it

Kosher and Halal certified.

100% Italian rice
100% Manufactured and packed in Italy
100% Italian family owned business for 6 generations
The authentic Italian Maestro of Risotto since 1856
Big R&D centre and rice breeding division
Top quality certified IFF, ISO and BRC

More than 100 farmers subscribing to our CARTA del Riso Gallo protocol
Supportive supplier community sharing mutual knowledge and financial support through dedicated PLUS ADVANCE platform www.plusadvance.com
Strong relationships with our communities to enhance and support our rice culture
100% made in Italy; 2 factories in Robbip

Life Cycle Assessment studies through University of Milan identify concrete actions to reduce environmental impact of rice cultivation
Eco designed pack; recyclable plastics, fsc carton

The One and Only introducing authentic rice products from certified sustainable farming

The One and Only introducing recyclable plastics in vacuum packs

The first brand introducing Basmati from sustainable farming in Europe, according to the SRP protocol and certified by an external auditor.