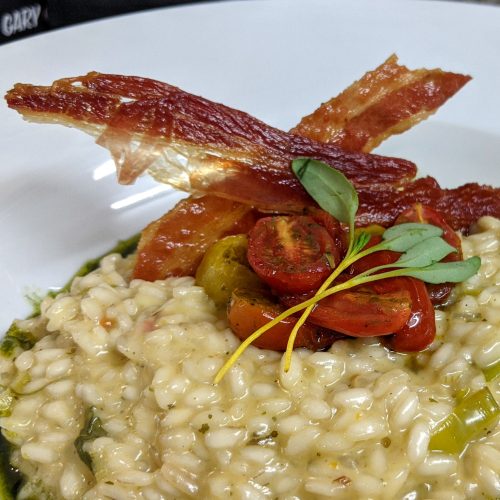 3 full cups Riso Gallo Arborio Risotto Rice
850ml low salt chicken stock
50g Butter (save 1/2 to finish)
1 Glass of White Wine
3 cloves of garlic diced fine
1 onion diced fine
1 handful of mixed cherry tomatoes
30g Gran padano cheese grated
3-4 slices streaky bacon
1 small leek washed/sliced fine
small handful of Microgreens to finish
In a heated pan, add a knob of butter, onions and leeks and chopped garlic. Sweat off for 5 minutes on a medium heat.
Cut your cherry tomatoes and season with salt and black garlic balsamic vinegar (optional) and a good glug of olive oil. Throw into a blender until smooth.
Add your Riso gallo Aborio rice to pan and coat until transparent. Add your wine and stir until it has evaporated.
Add a ladleful of your hot stock, stir and add more when necessary continue this for 18 minutes.
Add your grated gran padano, a little knob of butter, this will give the risotto a really creamy finish, top with the Bacon Shards, Microgreens and serve.
For Bacon Shards
Place your bacon on some parchment paper and place another sheet on top. With a Rolling pin stretch the bacon until it doubles in size length ways.
Next place the bacon in the two layer parchment paper onto a tray and on top of that add a really heavy pan that will be heat resistant in oven, (E.g. Skillet pan). Pop into the oven at 170c for 20 mins. Remove, plate and serve.
For vegetarian version leave out bacon and substitute chicken stock with vegetable stock.