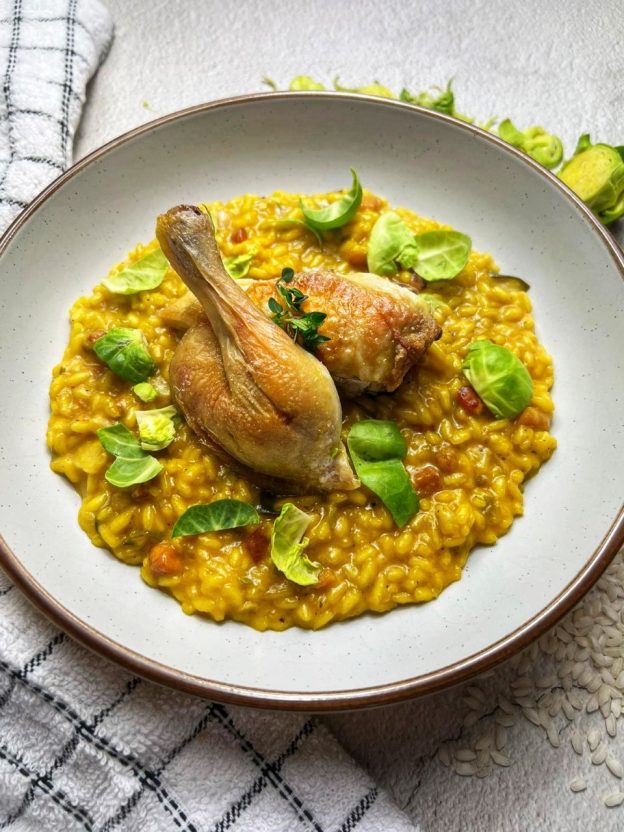 320g Riso Gallo Traditional Risotto Rice
2 x Poussin (or left-over turkey from Christmas)
100g Raw brussels sprouts (or left overs from Christmas)
1 shallot – finely diced
1 clove of garlic – finely diced
1 stick of celery – finely diced
77g of pancetta
150g salted butter
50g of grated parmesan
Pinch of saffron
1.5 litres – chicken stock
150ml dry white wine
Salt and pepper to taste
This risotto can be made with your leftovers from Christmas or fresh poussin and sprouts! Its beautifully versatile!
Preheat your oven to 180° if using poussin, remove your poussin from the fridge and spatchcock the bird by removing the spine and heavily salt the skin. Pop the poussin in the oven for around 45 minutes, so I would start this about 20 minutes before you're ready to cook your risotto! Once cooked, remove from the oven and allow to rest whilst finishing the risotto.
Add 25g of butter to a heavy bottomed pan add your pancetta, cook until browned. Once browned add your diced veg. Soften on a low heat for around 8 minutes. The veg should be soft and almost transparent. At this point, you may have some residue on the bottom of the pan from the pancetta, add 25ml of your dry white wine and deglaze the pan.
Add another 10g of butter to the pan and melt before turning up the heat slightly before toasting the grains for a few minutes until translucent. Then add the rest of your wine and reduce until the alcohol has completely evaporated. If using raw sprouts, finely slice them and add to the rice at this stage.
Then add your stock a ladle at a time until you reach the right consistency, this should take between 16 and 18 minutes.