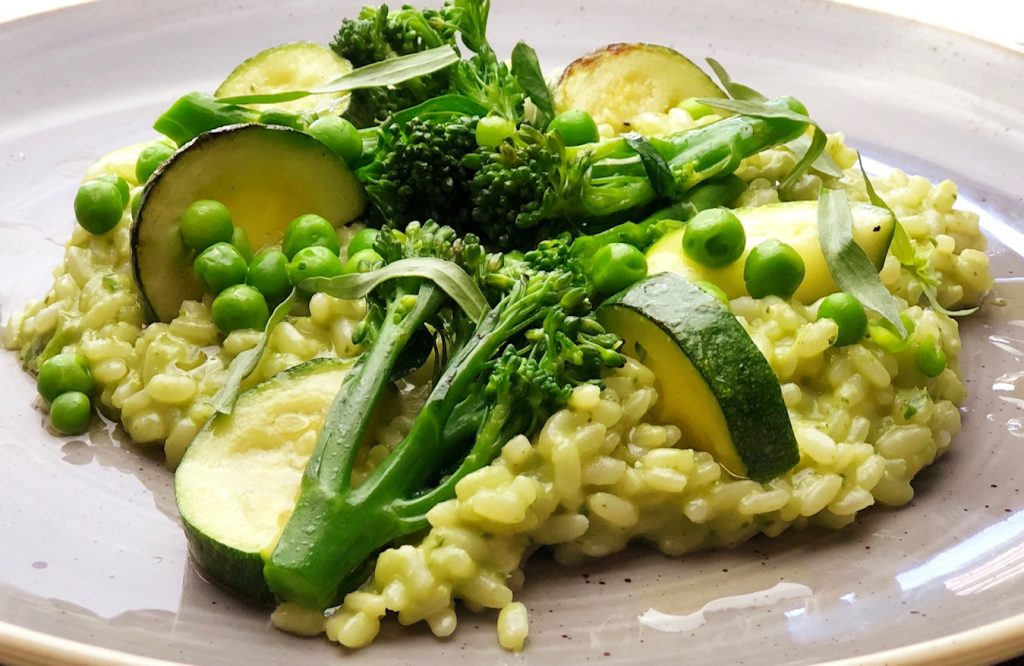 1 onion, finely chopped
250g RISO GALLO Traditional risotto rice
75ml prepared good quality pesto sauce
50g fresh tarragon, leaves only
150g tender stem broccoli,
100g frozen peas, defrosted
1 medium size courgette, cut into 1cm slices
store staple ingredients:
1 tb olive oil
1 vegetable stock cube (prepared into 800ml prepared stock)
40g unsalted butter
Heat the olive oil in a heavy based pan, add the onion and cook for 2-3 minutes until softened.
Add the rice and stir until the grains are coated in the oil, about one minute.
Heat the stock to boiling , then add a ladle of stock to the rice and simmer the rice until all the liquid has evaporated , continue adding stock a little at a time until all the stock is used and the rice is cooked, creamy, but still with a slight bite (al dente).
Cook the tender stem broccoli in a pan of boiling water for 3-4 minutes or until just cooked, drain well.
Take the broccoli, remove the base stems leaving the florets intact.
Place the broccolis bases in a blender with the pesto sauce and blitz until smooth.
Cook the courgettes in little olive oil and tender.
When the rice is cooked, remove from the heat, and let stand for one minute before beating in the butter, add the broccolis pesto and peas
Season to taste, transfer to serving dishes, top with the reheated broccolis florets, courgettes, fresh tarragon and serve.