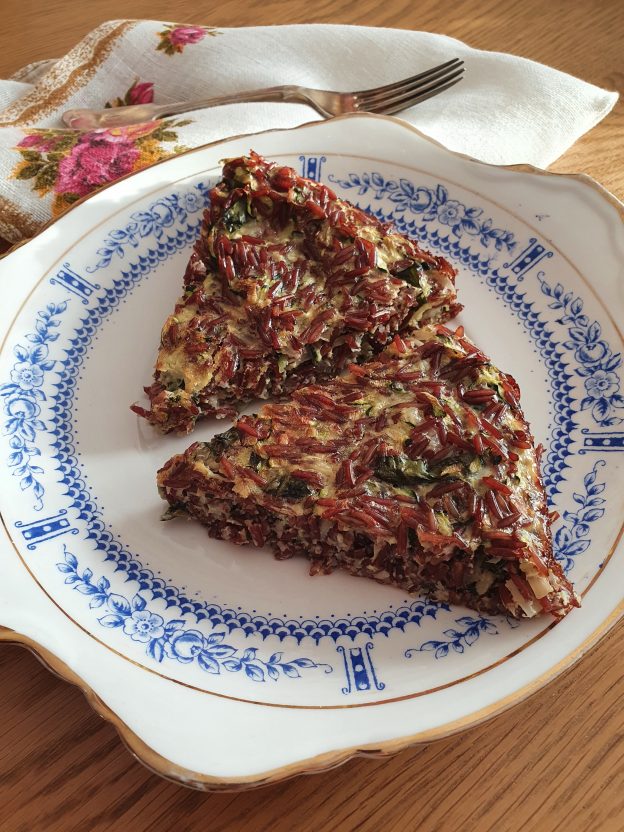 250g Riso Gallo Red Wholegrain Rice
700 ml vegetable stock
2 medium Courgettes
30g butter
2 tbsp extra virgin olive oil
2 banana shallots peeled and finely chopped
2 garlic cloves peeled and minced
3 Large eggs
70 g Pecorino or Parmigiano Reggiano grated
125 g mozzarella grated or finely chopped
1 tsp dried marjoram
10 basil leaves roughly torn
1 tbsp celery leaves finely chopped
Pinch dried chilli
Pre-heat the oven to 190C (fan-assisted)
Tumble the rice into a saucepan and cover with 700ml vegetable stock. Cook for 20 minutes.
Grate the courgettes and allow them to sit in a colander for 20 minutes. Place a small plate on top of the courgettes and weigh them down with a tin. After 20 minutes, squeeze out extra moisture by placing the grated courgette into a tea-towel and squeezing firmly.
Grease and line with baking parchment a 23cm loose bottom cake tin.
In a large frying pan add the butter and chopped shallots. Soften the shallots for 10 minutes over a medium heat, stirring intermittently. Add the garlic and courgettes to the shallots and stir. Cook for 5 minutes then spoon the courgette mixture into a large bowl. Add the drained rice, eggs, grated Pecorino, mozzarella, dried marjoram, roughly torn basil and chopped celery leaves to the courgette bowl and stir well to combine. Stir and season with salt, pepper, and the chilli flakes. Pour the mixture into the prepared cake tin, cover with foil and bake for 20 minutes at 190C (fan-assisted oven). Remove the foil and finish baking for a further 5 minutes or until lightly golden.