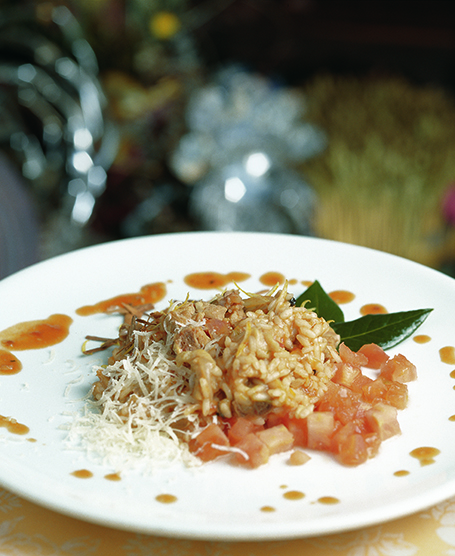 For the risotto
300 g Riso Gallo Carnaroli rice
½ onion (finely chopped)
1 garlic clove
1 teaspoon saffron pistils
100 g mild 'pecorino' grated
a few strips pared lemon rind
30 g extra virgin olive oil
For the ragout
500 g mince, cut into small cubes
1 medium white onion, cut into thin strips
1 garlic clove, finely chopped
2 bay leaves, cut into strips with scissors
1 glass sparkling Vermentino wine
100 g tomato purée
2 sachets saffron
1 tablespoon pared lemon rind
80 g extra virgin olive oil
1 teaspoon mixed spices (cloves, nutmeg, cinnamon etc.)
To make the ragout: heat the oil in a saucepan and brown the meat. Pour in the wine and evaporate off, then add the rest of the one at a time. Add water, making sure the mixture is well covered, bring to the boil and simmer with the lid on for about half an hour. Adjust seasoning.
To make the risotto: heat the oil in a heavy-based pan and fry the onion and garlic until it is golden. Remove the garlic and add the rice, stirring until it is well coated and starts to colour slightly. Continue with the cooking, adding the boiling hot ragout liquid a little at a time.
When the risotto is 'al dente', remove from the heat and beat to a creamy consistency with the pecorino, lemon and saffron pistils. Then mix with the mince which we prepared in advance.