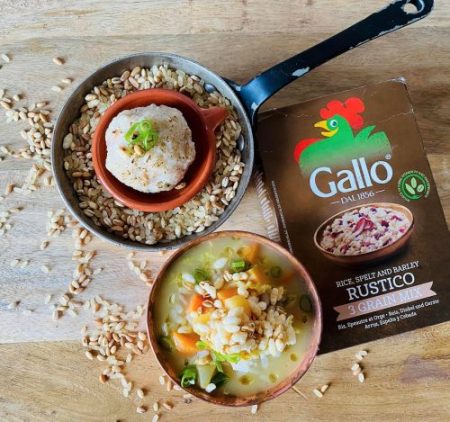 125g Gallo Rustico 3 Grains Mix
250g carrots (peeled and diced)
250g diced turnips
2 onions (peeled and diced)
1 diced celery stalk
1 leek (white part only and sliced)
salt and freshly ground black pepper
2.3 litres vegetable stock
85g/3oz savoy cabbage chopped (optional)
Ingredients dumplings
25g diced butter
70g cooked rustico rice
200g self-raising flour
1 tsp baking powder
75g extra mature cheddar finely grated
100ml milk
To prepare the soup
Heat all of the ingredients, except the kale, in a large saucepan until boiling. Reduce the heat and simmer gently for about 45 mins, or until the Gallo Rustico 3 grains mix is tender. Stir in the kale and pop the dumplings on top then cook for a further 10-12 minutes, or until the kale is tender and the dumplings have grown in size. Remove the dumplings, Season to taste with salt and freshly ground black pepper.
To prepare the dumplings
Rub the butter into the flour and baking powder with a good pinch of salt, then mix in the cheese. Pour the milk into the dumpling mix and stir to make a dough. Turn out onto your work surface (no need to flour it), lightly shape into a sausage and cut into 8 equal pieces.
Crispy Rustico topping
Deep fry Rustico mix at around 200c or just before smoking point (be extra careful as the oil is very close to flash point). When oil reaches temperature turn heat off add Rustico and it will immediately puff. Remove from the oil straight away and place onto paper towel to drain. Lightly salt and top the soup to finish.