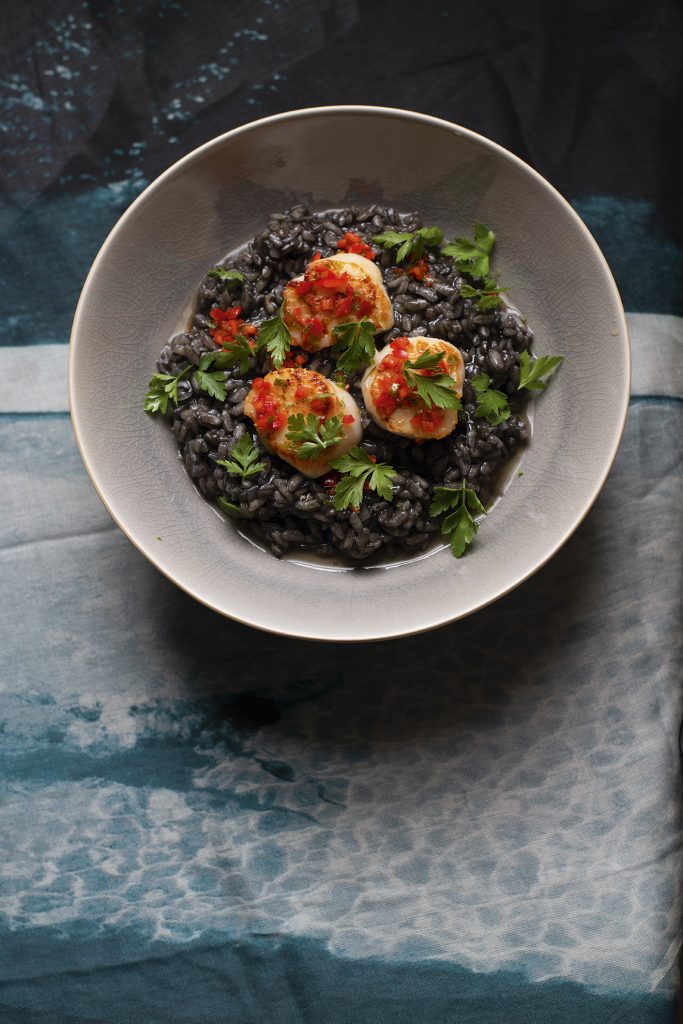 325 g Riso Gallo Carnaroli Risotto Rice
1 litre good-quality shellfish or fish stock
12 fresh scallops (with corals, if possible)
5-6 tbsp extra virgin olive oil
80 g butter
1 onion, finely chopped
4 shallots, peeled and very finely chopped
150 ml dry white wine
1 bay leaf
3 good tbsp squid ink (available at fishmongers and delis)
zest and juice 3 limes
1 garlic clove, finely chopped
1 tbsp caster sugar
1 tbsp fish sauce
1 red chilli, or to taste, chopped
handful fresh flat-leaf parsley or coriander, chopped
Put the stock in a large pan and bring to a simmer. Remove the corals from the scallops, if present, and add to the pan.
Meanwhile, heat half the oil and half the butter in a large, deep-frying pan or wok, add the onion and shallots and fry over a medium heat for around 8-10 minutes, until softened but not coloured. Add the rice and stir for 2 minutes or so until all the grains are coated and glossy.
Add the white wine and bay leaf and continue to cook, stirring, until the wine has been absorbed.
Remove the corals from the stock and discard. Add a good ladleful of hot stock to the frying pan and bubble until it has all been absorbed, stirring constantly. Add another ladleful of stock and repeat. Stir in the squid ink. Add another ladleful of stock and bubble, stirring all the time, until the stock has been absorbed. Repeat this until all the stock is used up and has been absorbed and the rice is creamy but still has a little bite. Stir in the remaining butter and leave to stand for a couple of minutes.
Mix the lime zest and juice with the garlic, sugar, fish sauce and chilli in a medium bowl.
Heat the remaining oil in a large frying pan and, when it is very hot, add the scallops. Cook for 1 minute on each side, then toss briefly in the dressing.
Divide the risotto among 4 bowls and top each with 3 scallops. Drizzle extra dressing over and scatter over the parsley or coriander to serve.