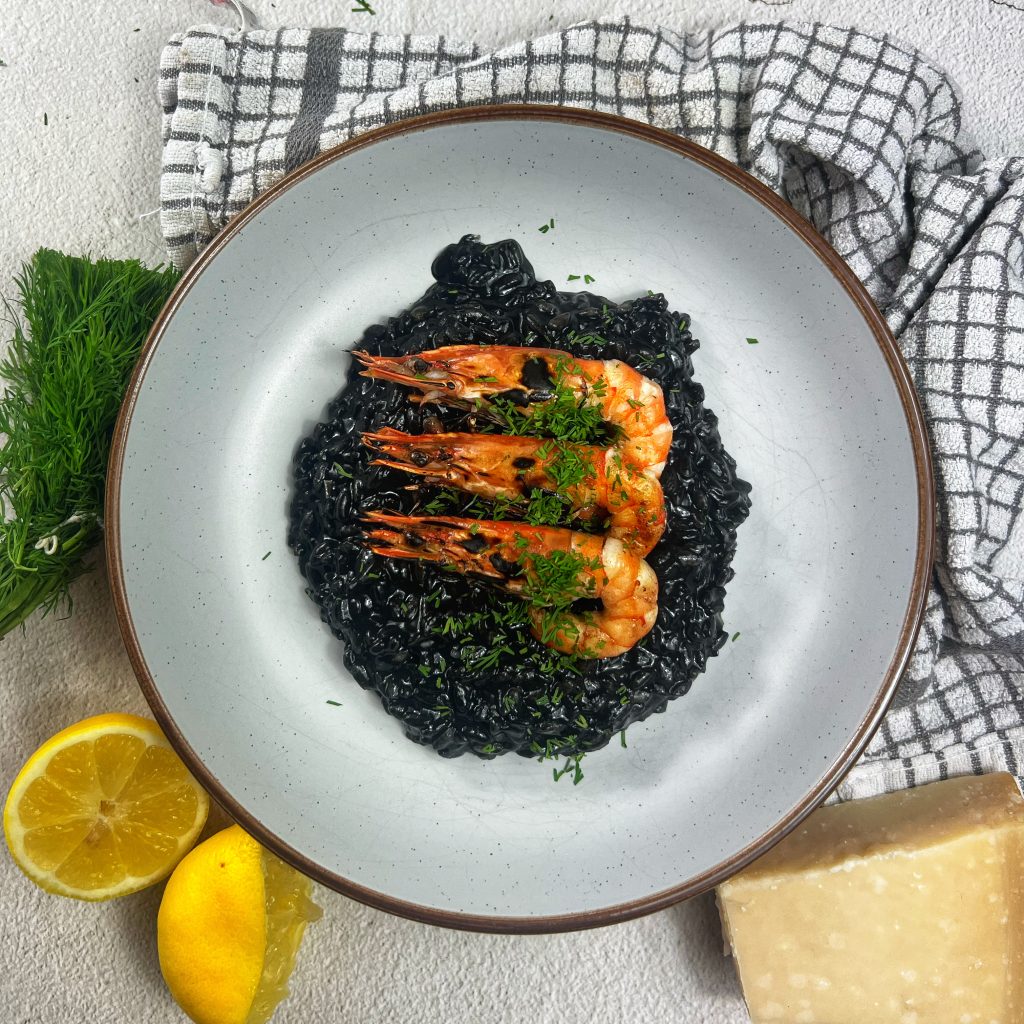 160g RISO GALLO Carnaroli risotto rice
12 Large tiger prawns with shells
1/2 shallot – finely diced
1 clove of garlic – finely diced
1/2stick of celery – finely diced
75g salted butter
25g of grated parmesan
1 litre – chicken stock
1 lemon
1 bunch of dill
80ml dry white wine
Tbsp of olive oil
Tsp squid ink
Salt and pepper to taste
Start by preparing your prawns by deshelling, and deveining your prawns reserving all of the shells and heads etc in a separate bowl. Set the prawns to one side. Heat a heavy bottomed pan and add the prawn shells and heads and cook until caramelised and starting to brown. Once browned, use around 10ml of white wine to deglaze the pan and evaporate the alcohol. Add your chicken stock and give everything a good stir and heat through before adding all of the mixture to a large blender. Blend the whole mixture together for a few minutes, pass the liquid through a fine sieve and into a large pan. You'll now be left with a beautifully fragrant stock – the prawn shells and heads are absolutely packed with flavour that we want to get into your risotto! Pop your stock on a low medium heat and keep warm
Now that you have your stock, begin making your risotto. Add 10g of butter to a heavy bottomed pan and add your diced vegetables. Soften on a low heat for around 8 minutes. The vegetables should be soft and almost transparent.
Add your risotto and toast the grains for a few minutes until translucent. Then add the rest of your wine and reduce until the alcohol has completely evaporated. Then add your stock a ladle at a time until you reach the right consistency, this should take between 16 and 18 minutes. Once you've reached the consistency you're happy with add a teaspoon of squid ink and stir through your risotto.
Heat a small amount of oil or butter in a pan and quickly pan fry your deshelled prawns until the colour changes. Remove your risotto from the heat and add your parmesan, chopped dill, a squeeze of lemon and remaining butter. The residual heat in the pan will melt the cheese and butter leaving you with an amazing creamy consistency but the lemon and dill will cut through that richness with a lovely sharpness.
Check for seasoning before plating up and lay your prawns on top of your risotto.