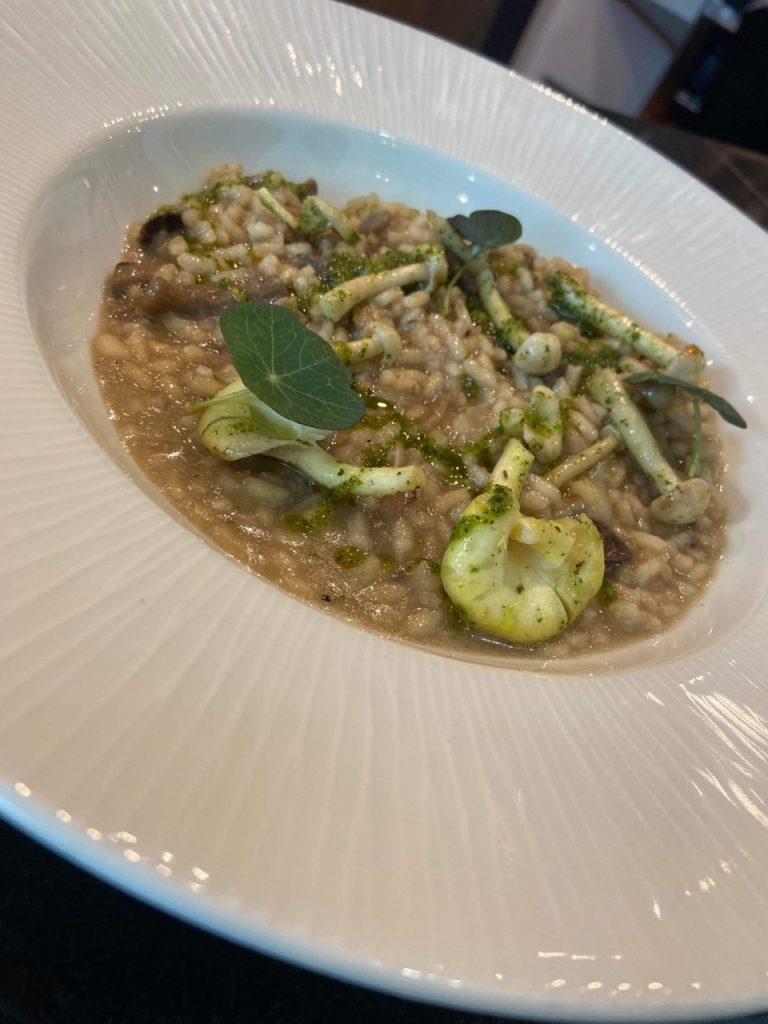 150 g Wild mushrooms
320g RISO GALLO Carnaroli Risotto Rice
1 banana shallot
50g  Grana Padano Cheese (or Vegan alternative)
1 litre essential cuisine stock
handful wild garlic
3-zorri leaves Garnish
Silk gel
Olive oil
Sweat the diced onion in a pan with a drizzle of extra virgin olive oil and a knob of butter. Cook for about 10 minutes on low heat until golden and caramelized. Add 100g of wild mushrooms and sweat off. Remove from the heat, blend and set to the side.
In a large pan start to dry toast the rice. This will help the rice retain its creamy finish and help Impart the flavour and give you that little bite (al dente).  Keep stirring the rice, adding stock each time it absorbs.
When cooked around 16 minutes, add your pureed onions and mushrooms, add the grated Grana Padano Cheese.
Cover with a tea towel, remove the risotto from the heat and finish. Rest.
In another pan, heat and drizzle olive. Toss your mushrooms through it and cook until your mushrooms are golden (about 4-5 minutes). Blend the wild garlic, olive oil and a little Grana Padano Cheese, MSK ingredients, silk gel to make an emulsion.
Garnish as per photo, sprinkle with a little sea salt and Koppetcress zorri cress leaves.