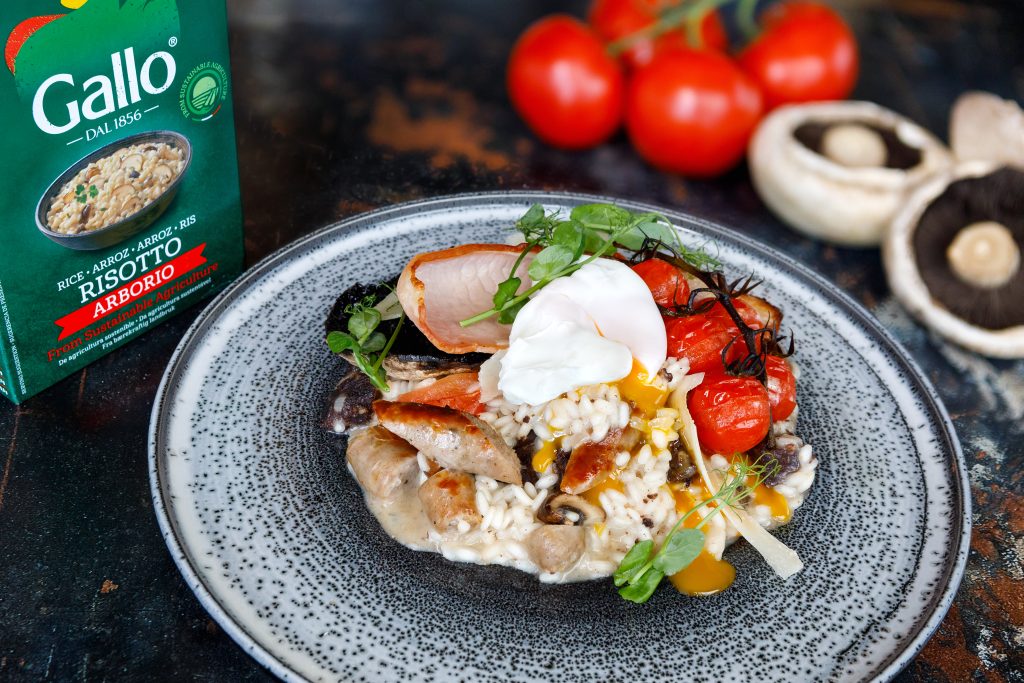 200 g Riso Gallo Arborio Risotto rice
3 shallots peeled and diced
1 large tablespoon olive oil
120 ml white cooking wine we are using sauvignon Blanc
30 g parmesan
20 g butter
20 g mascarpone
1 litre vegetable stock
2 cooked sausages, diced
2 cooked rashers of bacon, diced
6 Cherry tomatoes cut into half
1 slice of black pudding, diced
2 sliced mushrooms
Garnish with your favourite cooked breakfast items we are using bacon, sausage, tomatoes, mushrooms and a poached egg (optional)
Fry the shallots in the olive oil.
Add the rice and stir well.
Add the white wine and reduce.
Add a ladle of the stock and stir well.
Keep adding the stock ladle by ladle. As the rice begins to swell and the stock is reduced, add another ladle until the rice is almost cooked.
Now add the ingredients for the brunch risotto that have been cooked and diced and stir in gently to reheat.
Add the parmesan cheese and diced butter and stir gently in, then place in the bowl. After you have checked the seasoning, stir in the mascarpone.
We are garnishing our plate today with some of your favourite breakfast cooked items and a lightly poached egg (optional).