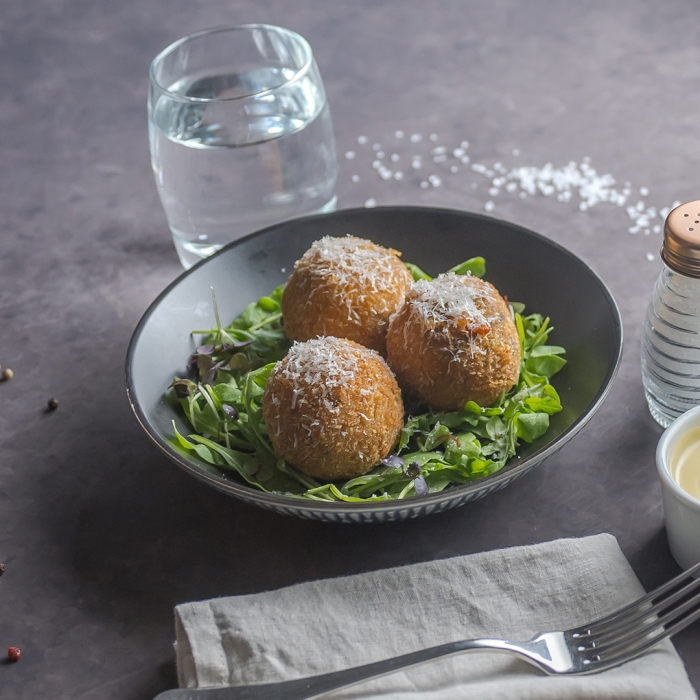 750g Riso Gallo Sustainable Arborio rice
3 litres of water / 48g Essential Cuisine Mushroom Stock Mix
2 eggs
100g onions, finely chopped
400g smoked scamorza cheese, diced
180g grated Grana Padano
60g unsalted butter
3 litre vegetable oil
3 tbsp olive oil
30ml dry white wine
1500g mixed mushrooms
Flour to dust
5 eggs for the egg wash
900g breadcrumbs or panko
Salad to garnish
Salt and pepper to taste
Wash and trim the mushrooms and cut thinly. Pan fry in a large pan with olive oil, garlic and herbs, season only when golden, remove from the heat and keep aside.
In a large casserole, roast the Riso Gallo Arborio risotto rice on a low heat with a pinch of salt, without adding any oil or fat, keep stirring, so the rice does not catch on the bottom of the pan. When the rice is hot, pour the white wine in, letting the alcohol evaporate. Cook for 15 minutes, adding the mushroom stock a ladle at a time, stir the rice occasionally and keep cooking.
While the rice is cooking gently, fry the chopped onion in a pan with olive oil and a pinch of salt for about 10 minutes, until golden. When the rice is almost cooked, add the onion, Essential Cuisine Wild Mushroom Glace and cooked mushrooms, stir well and remove from the heat. Add the butter, cheese, egg and seasoning, place onto a tray to cool down.
Once cold, form into rice balls around 40-50g each and put plenty of diced scamorza in the middle of each, for the extra ooze effect. Allow to set in the fridge, then pane in the flour, egg and breadcrumbs.
Now deep fry the rice balls in vegetable oil at 160°C for about 5-6 minutes, until golden. Season with salt and serve hot, with extra cheese and optional lemon zest. Garnish with salad and serve with warm Essential Cuisine Signature Hollandaise Sauce on the side.