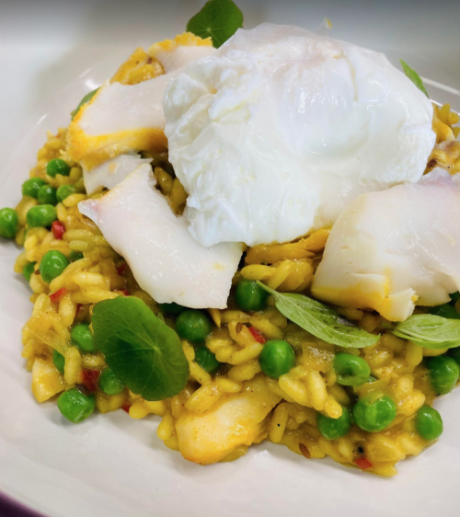 250g Riso Gallo Gran Riserva
600ml vegetables stock
250g smoked haddock
50g garden peas
1 small brown onion diced
1 small red chilli diced
1 teaspoon garlic purée
1/2 teaspoon curry powder
1/2 teaspoon ground turmeric
1/2 teaspoon ground cumin
1/2 teaspoon ground coriander
1/2 teaspoon cumin seeds
1/2 teaspoon onion seeds
1 tablespoon oil
100g unsalted butter
2 free range eggs
Parmesan to taste
Start by poaching the haddock in the stock gently until cooked and easily flakes apart, keep the cooking liquor and fish separate.
Gently heat the oil in the pan with the cumin seeds and onion seeds, heat them until they start to pop.
Once the seeds have started to pop and fragrance the oil, add the onions and sweat down, once softens add the chilli and garlic. Followed by the ground spices and the rice.
Cook out until rice becomes opaque then slowly add the reserved haddock cooking stock a ladle at a time. Once the rice is cooked, add the peas, butter and Parmesan and finish by folding some of the cooked flaked haddock back though the rice.
Poach the eggs in some boiling water with a splash of white vinegar in it. Ladle the risotto into two bowls and top with a soft poached egg and enjoy.