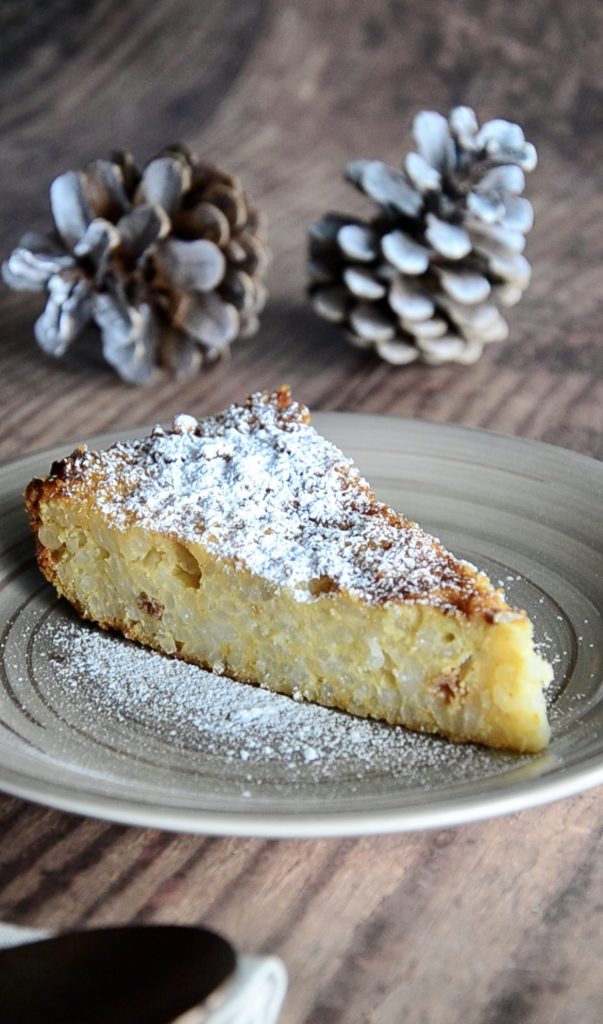 200 g of Riso Gallo Arborio
900 ml of Milk
180 g of sugar
3 eggs
50 g of raisins
50 g of toasted pine nuts
80 g of unsalted butter
2 cinnamon stick
Cinnamon powder
½ glass of Rum or any liquor
1 lemon
1 orange
Sea salt flakes
Icing sugar to dust
A traditional cake from the area around Bologna, in Emilia Romagna. So homely and simple yet delicious. This recipe is completely gluten free if you don't coat the tin with breadcrumbs.
Pour the milk into a pot and add the rice, 50g of sugar, the cinnamon sticks and simmer for around 30 minutes until the liquid is all absorbed and the rice is very soft and sticky. If necessary you can add water during the process. Remove the cinnamon. Let this cool covered with film.
Soak the raisins  in advance with the liquor for 30 minutes. Beat the eggs with the remaining sugar and add the melted butter, the nuts, the lemon and orange zest, a touch of cinnamon powder and the raisins with all the booze. Now incorporate the cooked rice and mix uniformly.
Line a cake tin of about 22-24 cm diameter with parchment and pour the cake mixture in. Sprinkle with a pinch of sea salt. Bake at 180 for about 45/50 minutes, until firm and well golden on top. Let it rest for 15 minutes, dust with icing sugar and serve warm.