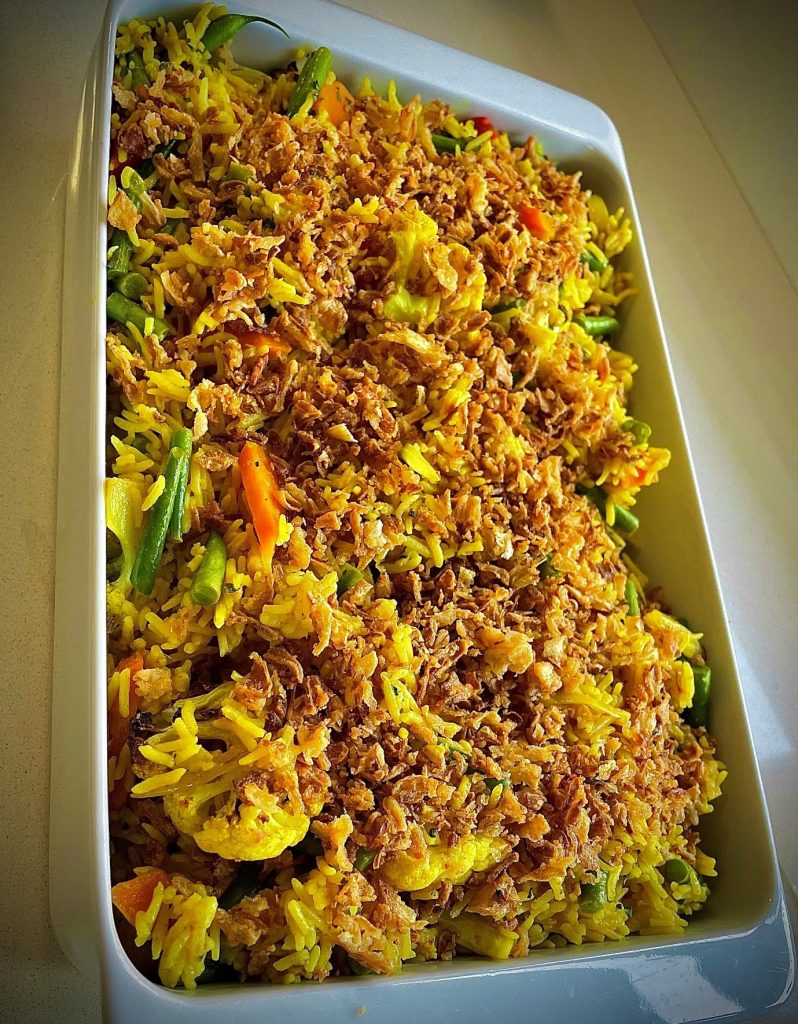 700g GALLO EXPRESSO BASMATI RICE
½ Head of Cauliflower, cut into small florets
1 Large Carrot Sliced
1 Small White Onion Sliced
2 Tbsp Madras Powder (medium or hot depending on preference)
3 + 2 Tbsp Vegetable Oil
1 Tsp Yellow Mustard Seeds
1 Tsp Ground Cumin
1 Tsp Ground Coriander
1 Tbsp Chopped Fresh Ginger
½ Tsp Turmeric
100g Chopped Fine Beans
250ml Veg Stock
4 Medium Boiled Eggs, Peeled
½ Lemon, Juiced
Fresh Coriander, Chopped
Crispy Onions
Medium boil 4 eggs, chill, peel and set to one side.
Mix in a bowl the cauliflower florets, sliced carrots, sliced onion, Madras powder and 3 Tbsp of vegetable oil. Roast in the oven at 180C (fan) for 15 minutes.
Whilst vegetables are roasting, gently heat 2 Tbsp of vegetable oil with the Mustard Seeds, Ground Cumin, Ground Coriander, Ginger and Turmeric. After a couple of minutes, add chopped fine beans and vegetable stock. Gently simmer for another 5 mins.
Add the rice and thoroughly mix.
Once vegetables are roasted, add to the rice and mix well.
Transfer into oven dish and place 4 medium boiled eggs into the rice mix (leave out for vegan option)
Cover with foil and place into the oven at 180C for 20 minutes.
Once ready, squeeze over Lemon Juice and top with Coriander and Crispy Onions
Enjoy with traditional garnishes such as Raita, Chutneys or Pickles.