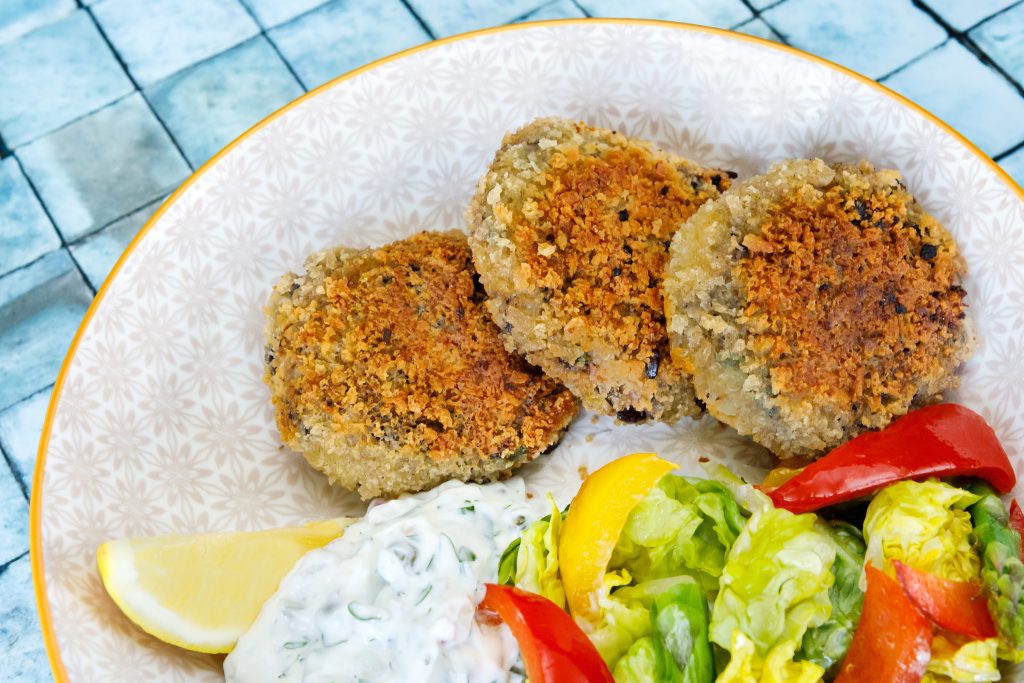 150g Riso Gallo Rustico Black rice (cooked as per pack instructions)
3 large potatoes peeled and cut into cubes
150g smoked haddock
15g butter for frying the onions
15g butter to fry the fish cakes in with a tablespoon of olive oil (this stops it burning)
50g spring onions (approx 4, thinly sliced)
2 eggs, beaten
20g white flour for dusting
100g panko bread crumbs (or other crumbs)
Lemon wedges
Gem lettuce
For the Tartar Sauce
4 tablespoons heaped of mayonnaise.
1 tablespoon chopped peeled shallots.
1 tablespoon chopped parsley.
1 tablespoon chopped gherkins.
1 tablespoon capers
Boil the potatoes and once soft, drain and allow to steam dry for 5 minutes, then mash with a potato masher this should make about 150 g mashed potato.
Cook the Black rice in salted water for about 20 minutes until cooked.
In the meantime, fry the spring onions in 15g butter and add the diced haddock. Once the fish and onions are cooked, tip into a bowl.
Add the cooked black rice and the mashed potato.
Season this to taste with salt and ground white pepper.
Fashion the mixture into 8 fishcake shapes.
To coat the fishcakes, lightly dust each fishcake in the flour until all dusted. Next place into the beaten egg and using your fingers remove any excess egg and make sure there are no flour "Spots" where the flour covers and the egg does not stick. Finally, take the eggy fishcakes and coat with the breadcrumbs.
Whilst finishing this heat up the 15g butter you have left with a tablespoon of olive oil and gently place the fishcakes into the pan and cook until golden and crispy and thoroughly cooked – if you are in any doubt give them 5 mins in the oven but the whole process should only take around 8 minutes or so.
To make the tartar sauce, simply mix all the ingredients well and spoon onto the fish cakes with the lemon wedges and gem salad leaves.
You can serve some roasted Mediterranean vegetables with this for a colourful bowl of food.